If you follow the social media, then you know I've been rocking my natural hair for quite some time now. When we first started natural hair journey, we all had straight hair. Although we wore hair straight, it was always pressed, never relaxed. Recently, I decided to wear it curly, and it's been a great journey of new trend!
So at the beginning of my natural hair journey, I searched online to figure out what kind of hair I had—whether it was 4a 4b hair. It depends on the individual because everyone's hair is different! If you have 4b curls, no matter what is your texture, you likely have shrinkage—though hair may shrink, there are many ways you can stretch it out and still wear your 4b natural curls—we'll get to that later!
HOW TO MAINTAIN 4B HAIR
You need a good wash routine for your 4b curls to love you back. Loving your 4B hair can be a hassle; it tends to dry, frizzy, and damaged easily. When you have 4b natural hair, you need to take special care of it. To keep your 4B curls hydrated and well-oiled, and stop breakage, ensure a good wash routine. I alternate between moisturizing and conditioning my hair as needed, co-washing is necessary, then conditioning and deep conditioning/protein treatments/masques. And finally, I use the LOC method to style my hair.
SHAMPOOING AND CO-WASHING 4B CURLS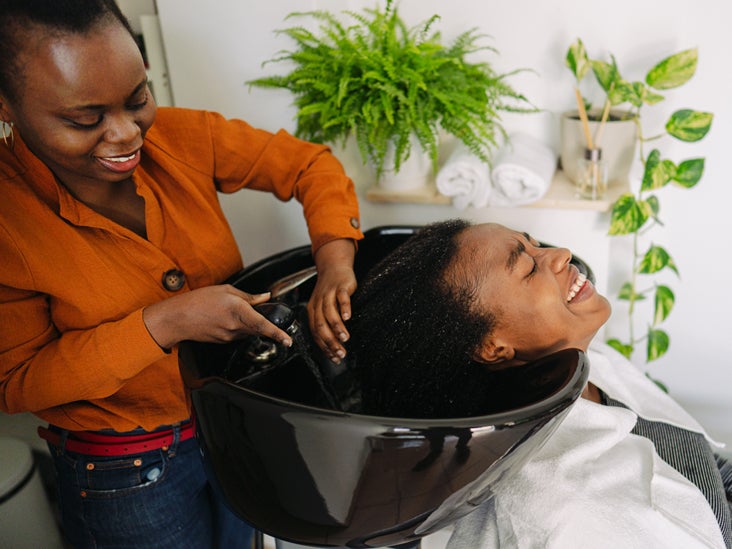 You can wash your hair every two to three weeks, depending on how much oil build-up there is. Everyone is different, but generally, I find that washing 4b hair every week may be too often. Many people who have 4b natural hair styles find that washing too often can cause their hair to dry out or cause breakage, so it's important to use the right amount of shampoo based on your hair type and condition.
Based on how you feel or what hair needs at the time, you may co-wash instead of shampooing to add extra moisture back into your hair. This shampoo is amazing for co-washing!
MAINTAINING 4B NATURAL HAIR - DEEP CONDITIONING, TREATMENTS, AND MASKS
You can use deep condition to your hair every week. Use a deep conditioner after each wash because it helps keep your hair healthy by maintaining its length and structure and keeps it super shiny. When deep conditioning, use some heat source to lock in the moisture. For example, sit under a dryer or use a steamer or thermal cap.
Maintaining your hair requires you to check in for protein treatments as needed; masques are also a nice addition to your 4b natural hair care routine. It rests on what you feel your hair needs most at the moment—for example, and protein treatments help smooth down the frizz when wet and moisturize my hair with something like coconut oil that helps remove tangles and smooth out from shafts to roots."
HOW TO STYLE 4B CURLS?
You will love styling your 4b natural hair type curly hair. It's easy one you can get the hang of it, and it's a relaxing process. You can use the LOC method (Leave-In, Oil, Cream) for all my styles—this leave-in product and this oil product. And then, you can use a very slick gel that gives me a hold that is still very flexible but defines my coils like no other. My favorite gel is plant-based, so it gives flexible holds - I don't like stiff hair! You'll learn as you go when you begin taking care of your naturally curly tresses—there are a few pointers I've come up with that work every time.