If you have curly hair, you probably know all about dealing with frizz a curly-haired girl's number one enemy. Caring for dry and damaged hair is essential to creating smooth, sleek strands. Learning some tips and tricks to style frizzy and curly hair is also helpful. Curly hair is more prone to frizz due to the hair is naturally drier than straighter hair. So it's important to know how to style your hair curly hair and create cute hairstyles that embrace its naturally coarse texture. If you want to learn how to keep your curls in check and style them, here are some tips: curly hair is drier than straight hair. So try using styling products that work for your type of hair. Also, be sure to follow these four simple hairstyles for curly hair!
How To Style Your Curly Frizzy Hair
Tip #1: Use a Wide-Toothed Comb.
Brushing curl pattern 4b hair dry with a traditional bristle brush can leave it damaged and frizzy. Instead of this you can use a wide-tooth comb to gently comb out your knot. It's gentler on the hair shaft and won't cause friction or disrupt the cuticle. If you start from the top, you risk pushing your knots further, it can cause your hair breakage, unruly hair ends, and frizzy hair. A better technique for working with your curly hair without frizz is to remove tangles from the bottom up using your comb to tackle each knot one at a time.
Tip #2: Use a Deep Conditioning Hair Mask. 
Deep conditioning hair masks can help tame frizzy locks, especially if you have colored hair. A hair expert suggests looking for products with ingredients such as milk protein and avocado oil, which quench curls and add moisture to your 4b natural hair type.
Tip #3: Get Regular Trims.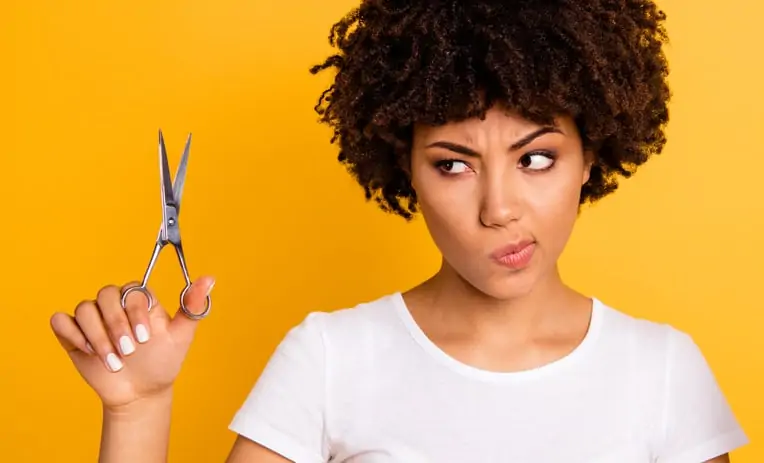 Getting a haircut every six to eight weeks is essential for keeping your hair healthy and bouncy. A trim keeps split ends at bay, making your hair more manageable and easier to manage you hair. Whereas a trim typically involves cutting off the hair length, it never takes off more than a 1/3 to targets only the messy, frayed hair ends. You can choose a haircut that is well-suited for thick, curly hair. As tempting as it may be to play with your hair, touch it as little as possible after you've styled it; this will help keep your hands from getting sticky or greasy while preventing frizz from forming on the rest of your head.
Best Hairstyles For Curly Frizzy Hair
Twist-outs, Flexi-rod sets, and box braids are all ideal hairstyles for curly frizzy hair. These protective 4b natural hair styles help seal in not only moisture but also smooth hair as it sets. Swipe on oil as your last step before it dries to help close the cuticle, making frizz-free curls a reality. If you prefer a wash-and-go, it can be tricky to pull it off without some frizz. The trick to making a wash-and-go curly hairstyle is to limit touching your hair after you apply products excess rubbing from your fingers will interrupt strands, and even if not visible at first, you may notice some frizz once dry.